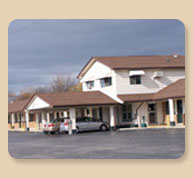 32 Inch Flat Screen TVs
HBO, CineMax, Sundance
Fully Extended Direct TV
Free Continental Breakfast
Iron & Ironing Board
More
Museums
Parks and Campgrounds
Marinas
Birch Run Prime Outlets
More

Are you looking for hotels in Bay City, Michigan? Delta Motel is the answer. Here at the Delta Motel you'll receive a warm and pleasant welcome from our hard-working staff. Our number one goal is to make your stay comfortable and convenient. Make the Delta Motel your choice in Bay City, MI lodging.

There is plenty to do and lots to see while you're in Bay City. If you like history, there are some fascinating museums less than 30 minutes away from the motel. If you're into antiques, there are some great specialty shops that will definitely grab your attention. Stop by some of these Bay City area attractions—you won't regret it.

Delta Motel is less than 5 minutes from Bay Regional medical Hospital, the Greyhound Bus Station and downtown Bay City. Our central location will allow you to get where you're going fast.
Located Near I-75
Queen Size & King Size Rooms
Non-Smoking Rooms Available
Free Continental Breakfast
Boat, RV, & Semi-Truck Parking
Iron & Ironing Board Available
We Accept Visa, Master Card, Discover, American Express, Traveler's Checks, & Cash
18 Guest rooms
One & Two Bedded Rooms Available
Electronic Locks
Free Wireless High Speed Internet
Group, Construction, & Extended Stay Rates
Free Local Phone Calls
Refrigerator & Microwave Available In all rooms
ROOM TYPES
1 Queen Size Bed
2 Queen Size Beds
1 King Size Bed
1 Queen Size Bed non-smoking
2 Queen Size Beds non-smoking
1 King Size Bed non-smoking
Important Internet Resources
Airport Hotels - Discount uk airport hotels with holiday extras.